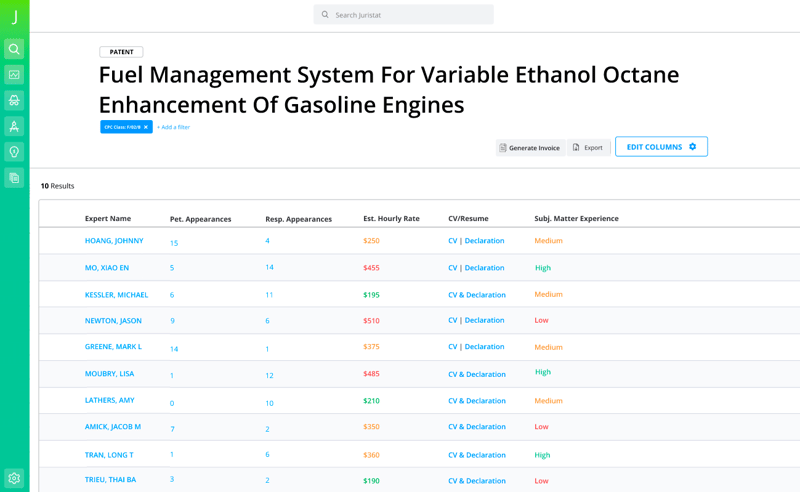 Search and Compare PTAB Experts
Finding the right expert for PTAB proceedings is crucial to your success, but no one likes paying expensive recruiter fees.
Juristat PTAB Expert Search eliminates the need to hire recruiters and allows firms to search independently from a trusted, industry-leading database of every expert witness from every PTAB case.
Ditch the recruiters and search for expert witnesses yourself, saving time and cutting costs by 70%. Want to see it in action? Watch a quick demo.→
Automatically rank based on experience, cost, and subject matter expertise
For the first time ever, Juristat makes it possible to browse every single expert witness from past PTAB proceedings and rank them based on technical expertise, the number of past appearances, cost, and more.
We take data from every PTAB case and make it searchable, so you can easily find the best fit for your particular IPR, CBM, or PGR case.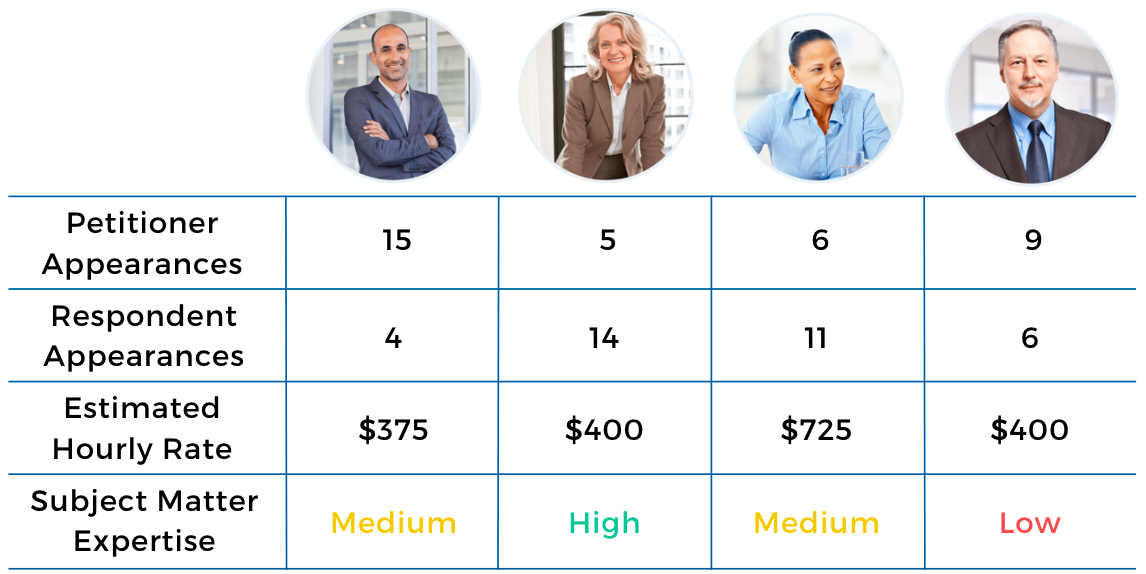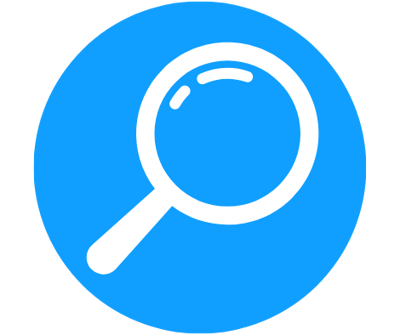 How do we estimate subject matter expertise?
When you use our PTAB Expert Search, our proprietary algorithm compares your patent number to:
an expert's experience in similar CPC groups and subgroups
an expert's experience in the same patent family
keywords and phrases in CVs and declarations
This generates a color-graded score specific to your search, helping you determine which experts have the subject matter expertise to help you win your specific case. Download our PTAB Expert Search Overview to learn more.
See how firms use PTAB Expert Search to cut costs and maximize success.
Find and compare the most reliable experts
Discover which expert witnesses are hired again and again by the biggest players in your industry, which have the technical expertise to match your case, and which are within your desired budget.
Conduct opposition research like never before
Now you can easily review experts retained in cases against you, see positions they've supported in the past, and find contradictions in their past arguments.
Lower and fix costs associated with PTAB cases

Say goodbye to expensive recruiter fees. With Juristat Expert Search, you pay once and use it as often as you'd like.


Bill your client directly with one-click invoicing

Invoicing is just a single click away. Instantly generate an invoice directly within the app, so you can bill your client for your search.


Rely on data rather than recruiters
You already rely on data to drive other strategic business decisions. Why not treat your selection of expert witnesses the same way?
With a quick search, you'll have instant access to all the critical data you need without paying a recruiter. You're just one search away from discovering:
Names of the expert, petitioner, and respondent involved
Whether the expert argued on behalf of the petitioner or respondent
Number of PTAB appearances the expert has made
Estimated hourly rate
Subject matter experience score
Links to download the expert's CV and Declaration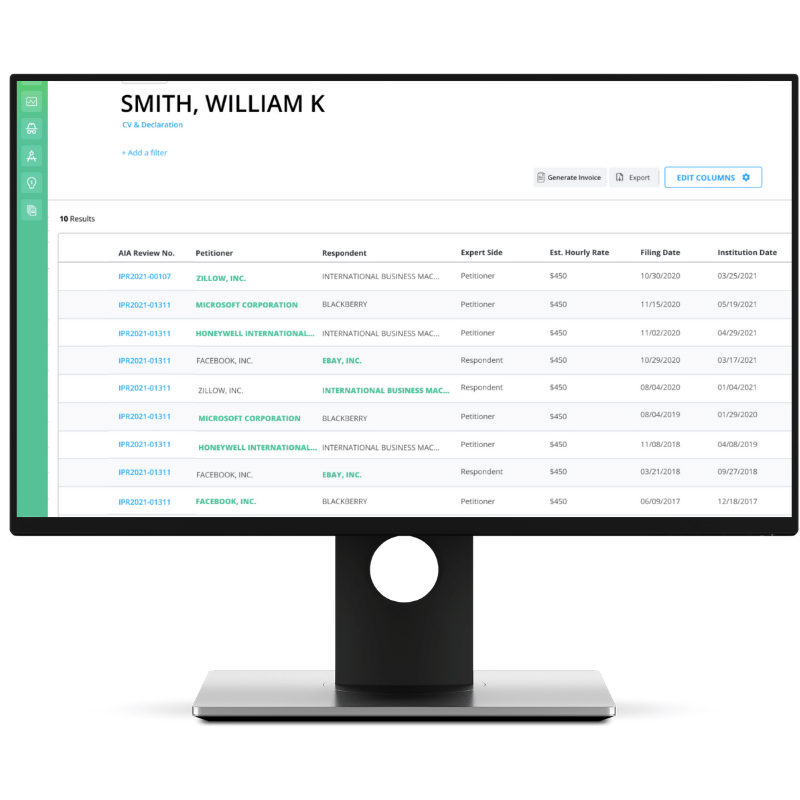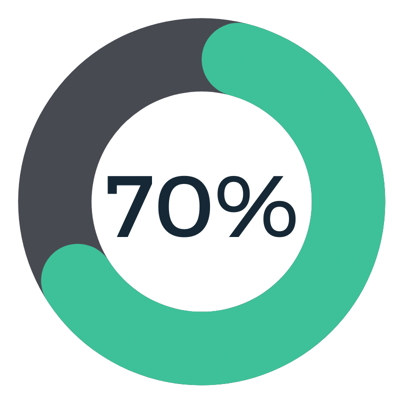 Cut overall costs by 70%
Eliminate expensive recruiter fees. With Juristat, you pay once and search as often as needed. That's unlimited access, with no limits on the number of searches or number of seats.
An annual subscription to Juristat PTAB Expert Search is one-third the cost of recruiters, and will both lower and fix costs associated with PTAB cases.
That's the kind of statistic that'll make your clients happy and keep your firm profitable.
Take control of your expert selection and opposition research
Stop paying recruiter fees when you can find expert witnesses faster, cheaper, and more effectively on your own. Book a demo to see how PTAB Expert Search can transform your practice.
A few commonly asked questions:
Price may vary based on the amount of PTAB work at your firm. Get in touch with our sales team, and they can provide an estimate.
Based on our experience, an annual subscription to Juristat PTAB Expert Search is one-third the cost of recruiters.
No! A subscription to Juristat Expert Search is firmwide. There are no additional fees to add users nor limits on how many seats your firm is allowed. You have unlimited access to the most robust database on expert witnesses available.
No! Unlike recruiters, you won't have to pay additional fees for each new IPR, CBM, or PGR case or each time you use an expert witness.
This unique model also means you have unlimited access to conduct opposition research and review experts arguing against you.
Pay once and search as often as needed.
We estimate the hourly rate based on what the expert reported in their most recent declaration. This way, you always have the most recent data to help you gauge cost.
We score subject matter expertise using a proprietary algorithm that automatically combines your patent number with:
an expert's experience in similar CPC groups and subgroups, as well as experience in the same patent family, and
machine learning that compares language in CVs and declarations to the claims and specification of your patent at issue
This generates a unique score to determine which experts have the subject matter expertise to help you win your case.
While we don't offer trials of the tool right now, we're happy to do a live demo so you can see it in action with one of your specific cases or expert witnesses. Request a live demo here.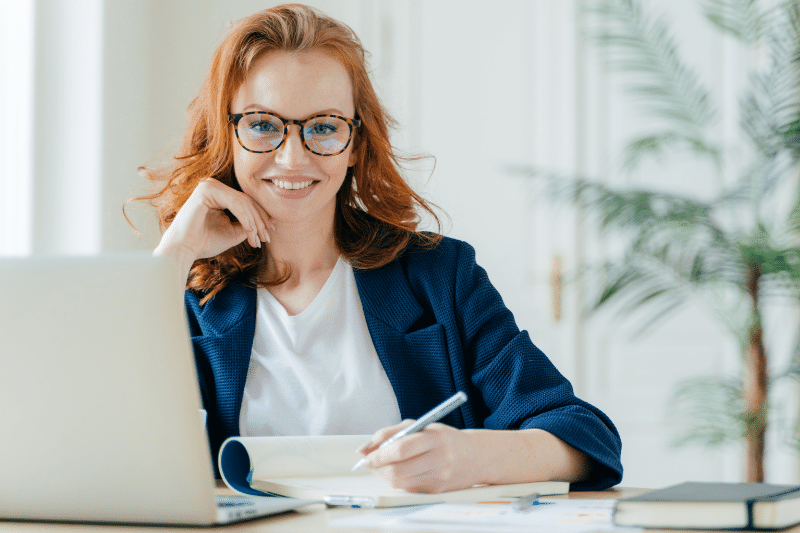 WEBINAR
What's Trending at the PTAB: The Top Firms, Companies, Experts and More
In this on-demand webinar we take a closer look at the following:
Leading firms and attorneys in PTAB proceedings

Top companies – and which are the fastest growing filers
Most and least common CPC classes
Most experienced (and most expensive) experts
And more.
BLOG
Patent analysis and insight
Analysis and insight to bring more predictability, transparency, and equity to your patent prosecution.
Sign up for our newsletter.
Get the latest Juristat news and insight delivered right to your inbox.